Parking Options in River Prairie
Wednesday, June 27, 2018
Altoona city staff
With more and more people visiting River Prairie Park to enjoy its amenities and/or to attend events, City staff has heard a similar question from a number of visitors, "Where can I park?"
We hear you and to help visitors locate parking, the City is in the process of placing signs at parking lot entrances and has created a River Prairie Parking Map. [Follow this link for a larger view.]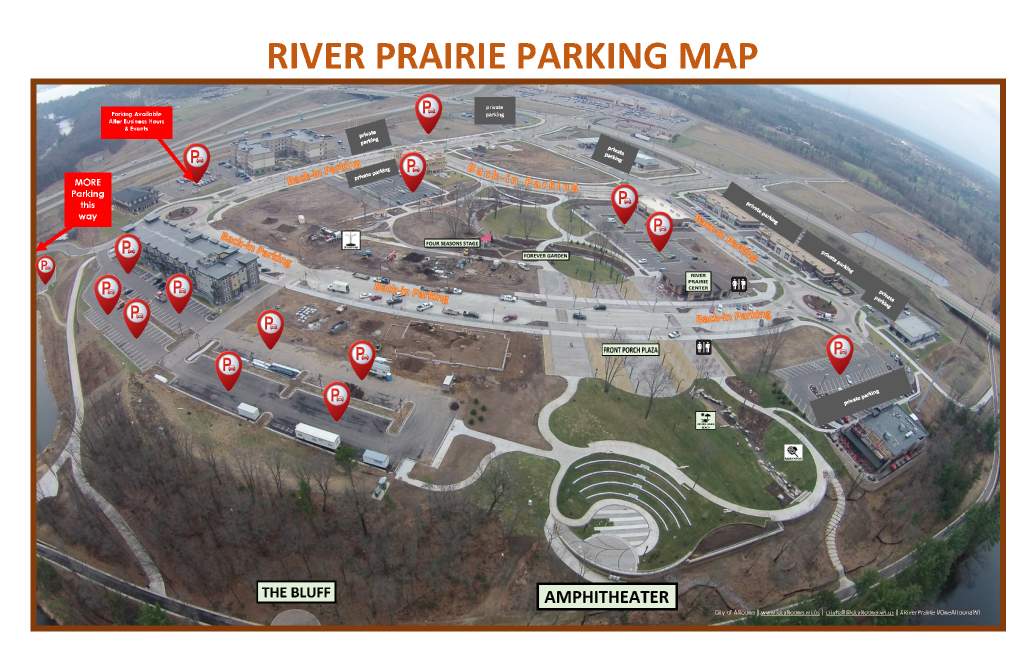 Visitors to River Prairie will discover that the development was designed with flexible parking options offering off-street and on-street parking. There are over 800 public parking spaces in River Prairie. You will find 612 pull-in spaces at 12 public parking lots in addition to 234 on-street, back-in parking spaces.
Why did Altoona install on-street, back-in parking? We chose to offer back-in, on-street parking for two main reasons, safety and enabling more parking spaces to be established. You will find below a list of some of the benefits of back-in parking.
Backing into a parking space is safer than backing into moving traffic.
When pulling out of the parking space, drivers have clear sight lines when entering into moving traffic.
When car doors are open, the doors act as safety barriers by positioning drivers and passengers, including children, to enter and exit toward the sidewalk.
Loading and un-loading is safer and more convenient as the trunk of your vehicle is toward the sidewalk and not toward moving street traffic.
It is easier than parallel parking.
It provides more parking spaces than parallel parking.
Whether you prefer traditional or back-in parking, there are plenty of options for visitors to choose in River Prairie.