Snow piles aren't at record size, but headed in that direction
Friday, February 22, 2019
Chris Vetter | Leader-Telegram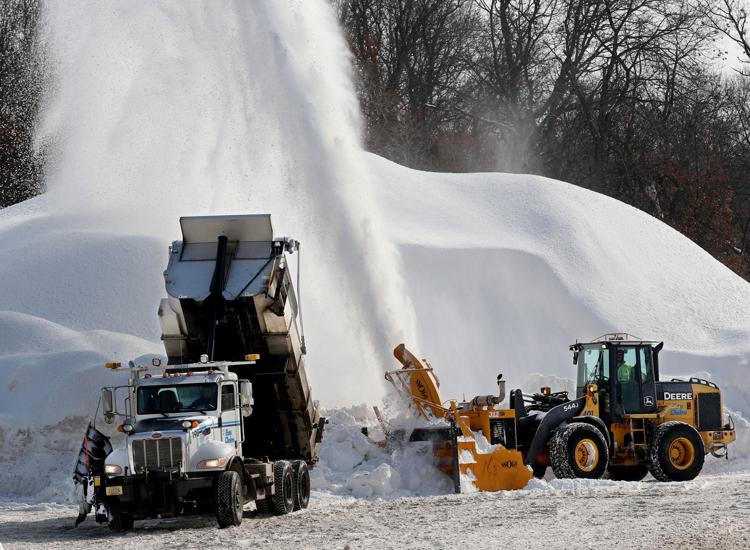 Every day for the past couple of weeks, between 230 and 300 truckloads of snow have been brought to a dump site off of Galloway Street in Eau Claire.
"It depends on the length of the haul, and where it's coming from," said Steve Thompson, the city's street maintenance manager.
Thompson estimates the snow pile rests on roughly a 12-acre site. The city has been using just that location for its snow pile for the past year; they no longer use a spot next to First Street.
"They are stacking it up higher," Thompson said.
However, the snow pile isn't anywhere near record-sized, he said. The snow is basically from just the last few weeks, but snow piles in the winter of 2010-11 and 2013-14 were bigger because it was snow from an entire winter.
With that said, Thompson said the pile keeps getting bigger by the day.
"We haul from throughout the downtown and it's (from) a lot of the main arterials," he said. "(The coming snowfall this weekend) is just going to create more areas that we need to haul. With the additional snow coming, and what we're hauling every day, it could match what we had in 2010-11 and 2013-14."
David Walter, Altoona public works director, said one of his tasks this year will be to find a new permanent home for a city snow pile.
"We used to dispose of it on vacant land in River Prairie (development), but that is no longer available," he said. "Now that the last two parcels have been sold, we have to develop a spot for the future."
A new Prevea Health building is being constructed on that property, he explained.
So, the city has been hauling its snow across the river to the Eau Claire pile off Galloway Street this year.
Thompson said it hasn't been a big deal to take Altoona's snow.
"When we got tight in 2010-11, they had a spot and they shared with us," Thompson said. "They aren't bringing in an overwhelming amount of snow."
Chippewa Falls public works director Rick Rubenzer echoed Thompson's comments that the snow pile isn't as big as other years because it is mostly from just the last few weeks, rather than from throughout the entire winter.
"We still have lots of room," Rubenzer said. "However, those windrow piles (alongside the road) are as big as any time I've seen them. We're removing areas that are the most dangerous."
Rubenzer said the city is in good shape with a full shed of salt, and he anticipates they'll have enough to get through the winter. However, two of the city's 14 snow plows are in the shop and won't be ready for snow removal this weekend, he said.
All three directors asked the public for patience.
"Our guys are putting in many hours of overtime," Rubenzer said. "Be patient; spring will come."
Thompson said there is no end date of when they'll stop moving snow to the pile, especially with the current forecast of another big snowstorm this weekend.
"There will come a time when it will melt faster than we can haul it," Thompson said.