City of Altoona started its Emerald Ash Borer Mitigation Program
Thursday, December 6, 2018
City Staff
The City of Altoona has begun its Emerald Ash Borer Mitigation Program. The City is currently removing ash trees in the boulevard (planting strip between the curb and sidewalk) along Lynn Avenue, and within Cinder City Park and 10th Street Park. Stumps will be ground, with lawn restoration to be completed in the spring of 2019.
The City has included funds in the 2019 budget to continue with ash tree removal. In addition to tree removal, the City will replace trees with a diverse variety of tree species.
What is Emerald Ash Borer?
"Emerald ash borer (EAB), Agrilus planipennis Fairmaire, is an exotic beetle that was discovered in southeastern Michigan near Detroit in the summer of 2002. The adult beetles nibble on ash foliage but cause little damage. The larvae (the immature stage) feed on the inner bark of ash trees, disrupting the tree's ability to transport water and nutrients. Emerald ash borer probably arrived in the United States on solid wood packing material carried in cargo ships or airplanes originating in its native Asia. As of October 2018, it is now found in 35 states, and the Canadian provinces of Ontario, Quebec, New Brunswick, Nova Scotia and Manitoba.
Since its discovery, EAB has:
Killed hundreds of millions of ash trees in North America.
Caused regulatory agencies and the USDA to enforce quarantines and fines to prevent potentially infested ash trees, logs or hardwood firewood from moving out of areas where EAB occurs.
Cost municipalities, property owners, nursery operators and forest products industries hundreds of millions of dollars."
Source: www.emeraldashborer.info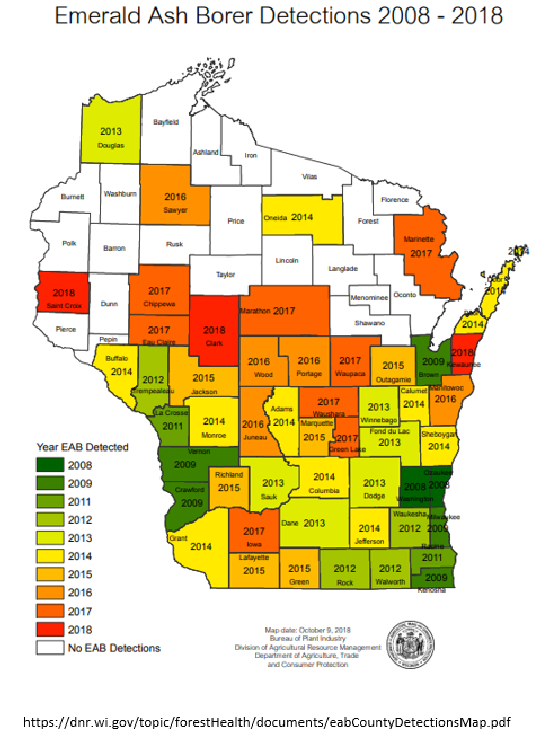 Click here for an expanded view of the map >>
You can find out more about Emerald Ash Borer from these websites: