Black River Falls chief offered Altoona PD's top job
Thursday, January 31, 2019
William Foy | Leader-Telegram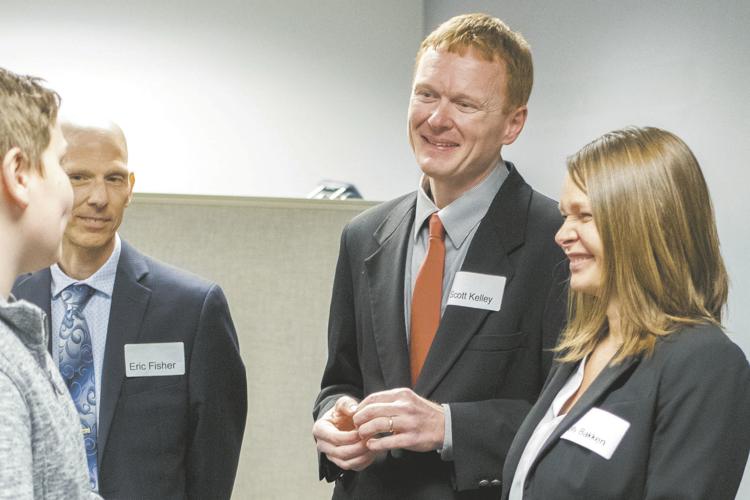 Altoona police chief finalists, from left, Eric Fisher, Scott Kelley and Kelly Bakken talk to a meet-and-greet attendee Thursday at Altoona City Hall. Not pictured are the other two finalists for the chief position: Brian Hagen and David Livingston. Bakken was offered the job Thursday evening after the Police and Fire Commission met. (Photo by Branden Nail, Leader-Telegram)
ALTOONA - Black River Falls police Chief Kelly Bakken has been offered the Altoona Police Department's top job.
According to a news release from the city of Altoona:
Bakken received a conditional offer to become Altoona chief Thursday after the city's Police and Fire Commission met following a meet-and-greet for the community with the five finalists for the position.
The offer is conditioned on a satisfactory background check, physical and on agreeing to terms of employment.
Bakken earned a Bachelor of Science degree in criminal justice from Upper Iowa University. She began her career in public safety as a deputy sheriff jail officer for the St. Croix County sheriff's office.
Before being appointed as chief in Black River Falls, Bakken held positions as patrol officer, detective, patrol and investigations captain. Her longest tenure was with the Jackson County sheriff's office, from 2010 to 2017.
If hired, Bakken would replace former police Chief Jesse James, who resigned after being elected to the 68th District seat in the state Assembly.
At the meet-and-greet Thursday, Bakken said she "thoroughly" enjoys her current position but that Altoona is "a fantastic place," adding that she considers it a "forward-thinking" city.
City Administrator Mike Golat said that the popularity of the community policing strategy was part of the reason behind the meet-and-greet.
"And really making a safe community is a partnership between public safety and the community," he said. "There's got to be transparency, and this is getting the community on board right as a leader of the Police Department comes in to establish rapport immediately."
The event consisted of the candidates mingling with the 25 or so who attended; their approximately two-minute introduction of themselves; and more time for residents to talk with those hoping to lead the Police Department.
Here are the other four finalists for the Altoona police chief job:
• Eric Fisher, police chief of the village of Poynette.
• Brian Hagen, sergeant in the Menomonie Police Department.
• Scott Kelley, a sergeant in the Altoona Police Department.
• David Livingston, a lieutenant in the Altoona Police Department.
Meet-and-greet attendees also were encouraged to fill out a comment card for Police and Fire Commission members to consider before they reached a decision.
Like Bakken, Fisher was effusive in his praise of Altoona.
"You guys have a wonderful, wonderful community," he said.
Hagen cited what he saw as a high-quality police force. "You guys should be proud as a department and a community that the department that serves you - they are great," he said.
Kelley said attendance at the gathering showed the city is a supportive place. "It's 20 below outside, and yet people still show up," he said. "Altoona is just an amazing community."
Livingston pointed to the performance of the department. "We've done a lot of things for the community as a whole department, and I think we've got a lot to be proud of," he said.