City of Altoona Planning Workshop | Contribute Your Vision & Priorities
Thursday, September 23, 2021
City of Altoona Staff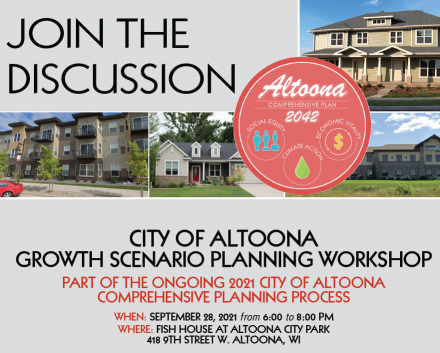 Click here for a larger view of this graphic >>
Come take part in an interactive meeting to discuss future growth opportunities and alternatives hosted by the City of Altoona and its planning consultant, Vandewalle & Associates.
What are growth scenarios?
As part of the Comprehensive Planning process, it is critical to analyze, address, and plan for future growth. Altoona has experienced substantial growth over the past decade, however in prior decades growth has fluctuated. This workshop aims to gather feedback from residents on possible future alternative growth patterns over the next 20 years. This insight will help shape the City's future land use map and policies within the plan.
Current Comprehensive Plan
The existing Comprehensive Plan is available to view from the City's website at:
https://www.ci.altoona.wi.us/webfiles/fnitools/documents/comprehensive_plan.pdf
Questions?
For additional information on the event or any part of the planning process, please contact Josh Clements, City Planner, via email at: joshuac@ci.altoona.wi.us or by telephone at 534-444-5430.
For more information, please visit the City's website at: https://www.altoonacompplan.com/
*** Sandwiches-Snacks-Drinks Provided ***
Bring your family, enjoy the park, get some food, and contribute to planning for our shared community's future. Your contributions are key to establishing these goals.