Altoona, Wisconsin versus Altoona, Iowa go head to head in friendly competition
Wednesday, October 20, 2021
City of Altoona staff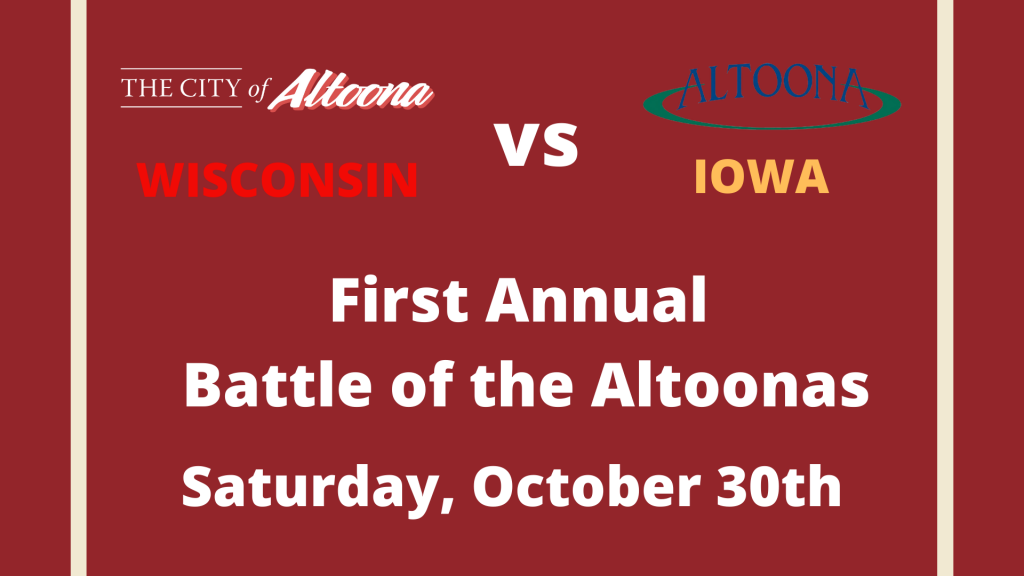 Altoona, Wisconsin - The Mayors of two Altoona cities have announced a friendly competition aimed at the Wisconsin vs. Iowa football game scheduled for Saturday, Oct. 30th in Madison.
Brendan Pratt, Mayor of Altoona, Wisconsin and Dean O'Connor, Mayor of Altoona, Iowa, are vying to see which team will win. Both Altoona's are gearing up for a win on Oct. 30. As for the bets, Altoona, Iowa is putting up its best steaks and local beer, while Altoona, Wisconsin is putting up local beer from Modicum Brewing Co, Badger bratwursts from Rump's Butcher Shoppe, and locally sourced cheese curds.
"Badger fans look forward to the Iowa game every year. We are looking forward to this competition and we are excited to have some fun along the way," says Mayor Brendan Pratt. "We will see which Altoona will be victorious," Pratt adds.
Watch the friendly competition unfold on our Facebook page: https://www.facebook.com/AltoonaWI
You may also explore the City of Altoona, Iowa Facebook page by clicking here: https://www.facebook.com/CityofAltoonaIA